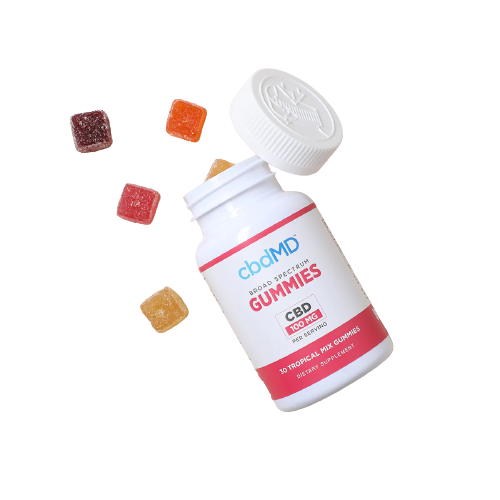 Broad Spectrum Tropical Gummies (No THC)
Get your daily CBD the delicious way with CBD gummies! A mouth-watering blend of fruit flavors makes it easy and fun to take cbdMD's CBD edibles infused with Superior Broad Spectrum hemp extract in a precisely measured amount in each gummy, so you know exactly how much you're getting. Now you can combine your CBD tincture or CBD cream with a sweet snack made for everyday support. Great for snacking, sharing with friends, or finishing off a meal, CBD gummies are among the most popular and versatile CBD edibles you'll find anywhere!
Infused with Superior Broad Spectrum formula with various cannabinoids and terpenes
Mixed flavors of Strawberry, Orange, Raspberry, and Tropical fruit in every bottle
Available in three CBD concentrations
Vegan and Gluten-Free
Made with organic sweeteners, oil, and juices
CBD gummies are one of the simplest and most enjoyable forms of CBD. It's pretty easy: just take out a gummy and eat it!
If you're just starting out on your wellness journey, we advise taking a CBD gummy or two every morning for at least 30 days and monitoring how you feel. That's because CBD can affect everyone differently, and it's generally suggested to maintain consistent use to allow the compounds to interact with the body. If you don't get the desired results, adjust the amount gradually as needed.







Hemp Extract (Cannabidiol, Cannabigerol, Cannabinol), Organic Tapioca Syrup, Organic Cane Sugar, Water, Pectin, Natural Flavors, Organic Fruit and Vegetable Juice (for color), Citric Acid, Sodium Citrate, Malic Acid, Organic Sunflower Oil, and Organic Carnauba Wax.