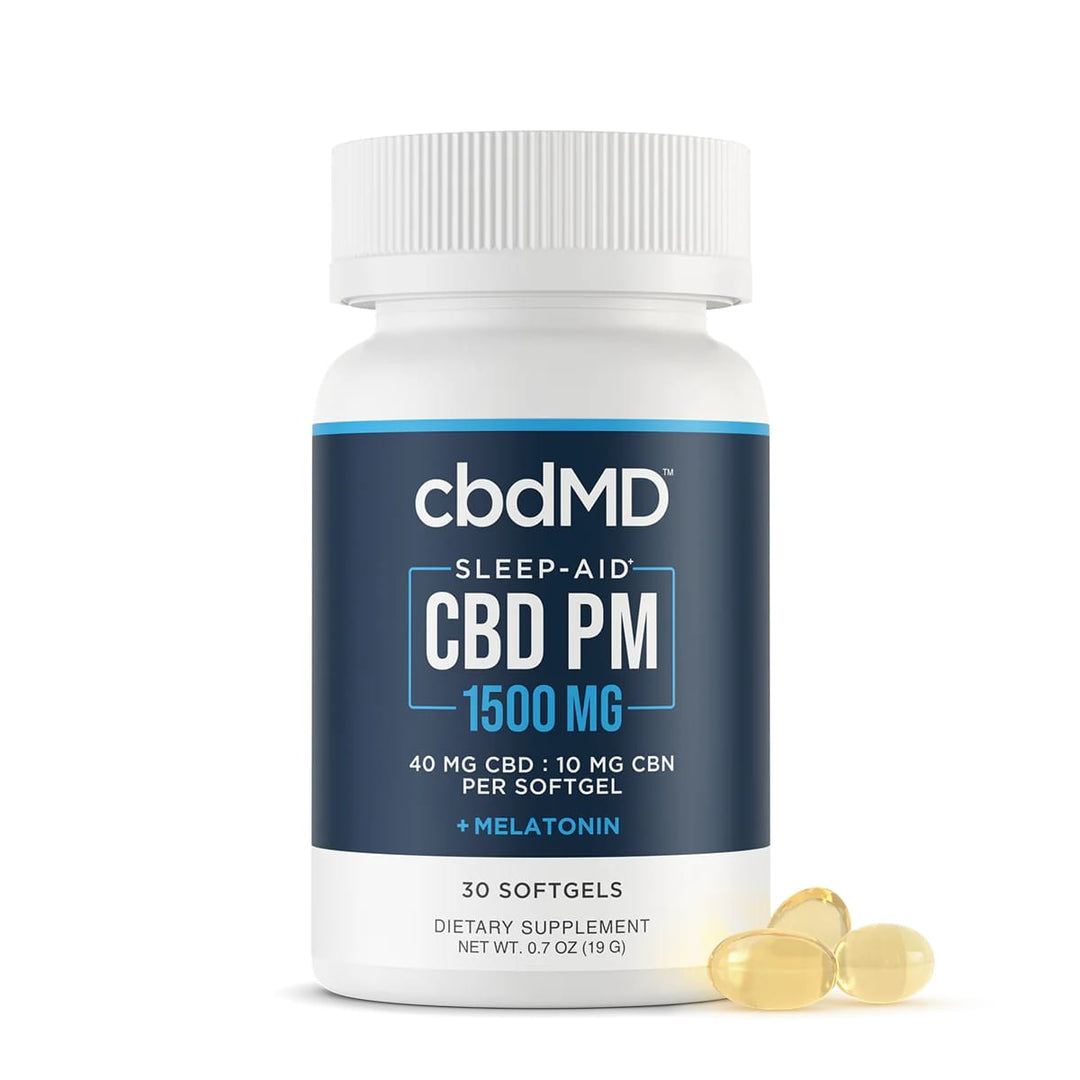 Broad Spectrum PM Softgels
Get the sleep you deserve with cbdMD's premier CBD sleep aid in a convenient sleep aid pill. We've crafted a softgel version of our award-winning sleep formula of Superior Broad Spectrum hemp extracts and melatonin with calming herbs so you have the right solution for every need. Available in three varying concentrations: 500 mg, 1000 mg, and 1500 mg of CBD per bottle. Now with additional levels of CBN for aided relaxation, this sleep aid offers 40 mg of CBD and 10 mg of CBN per serving in the 1500 mg bottles. When you're getting your best sleep, you're living your best life!
Made with broad spectrum hemp extract with supportive cannabinoids (CBD, CBG, CBN) and select terpenes
Available in 30-count bottles with 500 mg and 1500 mg of CBD; also available in 60-count bottle with 1000 mg of CBD
Includes Melatonin and naturally relaxing herbs such as Valerian Root, Lemon Balm, Chamomile, and more
Fortified with Vitamin E
Flavorless and easy to swallow
The sleep aid that shows you how to sleep better is just a softgel away! Simply swallow each softgel whole with a glass of water or other drink about an hour before you need to go to sleep. We recommend starting with one softgel, but you are free to adjust the number of capsules as needed. If you have previous experience taking CBD for sleep, melatonin, or other sleep aid pills, this can give you an idea of what amount will be most effective; each softgel contains 3 mg of melatonin and either 16.5 or 50 mg of CBD, depending on the concentration.
Keep in mind that while many will feel the full effects of melatonin right away, CBD requires time to build up in your system. CBD PM can be most effective as part of a regular CBD routine that includes additional products (like CBD oil, CBD gummies, or CBD bath bombs) and adding the sleep aid as needed. Please consult your primary healthcare provider with any questions about adding CBD to your wellness regimen.
Take 1-2 softgels one hour before bedtime.







Hemp Extract (Cannabidiol, Cannabigerol, Cannabinol), Proprietary Blend (Valerian Root Extract [Valeriana Wallichii], Hops Flower Extract [Humulus Lupulus], Lemon Balm Leaf/Flower Extract [Melissa Officinalis], Chamomile Flower Extract [Matricaria Recutita], Passion Flower Extract [Passiflora Incarnata]), Melatonin, MCT Oil, Gelatin, Vegetable Glycerin, and Mixed Tocopherols (Vitamin E).