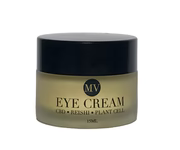 Made with only premium active botanical ingredients, this patent-pending Eye Cream is perfectly formulated to achieve radiant, healthy eyes. Featuring Jasmine, Full Spectrum CBD with synergy boosting Terpenes, the powerful Reishi Mushroom Spore Oil, and Active Plant Cells, this cutting-edge blend is just what your eyes have been looking for. 
The skin is the largest organ of the body and incredibly absorbent. This Eye Cream is an effective way to receive the transdermal benefits of Cannabinoids, Adaptogens and Polysaccharides from the outside-in. The Active Plant Cells from the Tuberose Flower help to eliminate dark circles, puffiness, crow's feet, wrinkles and fine lines around the eyes while re-stimulating circulatory and tissue mechanisms, hydrating and restoring the skin barrier. The Active Plant Cell clinical studies have shown that this formula brightens, firms, soothes, and moisturizes while enhancing radiance, uniformity of skin color, promoting the elimination of toxins and increasing micro-circulation in the skin.
Due to the Pure Jasmine Essential Oil, this Eye Cream formula creates a sweet and tender aromatic experience while promoting healthy, youthful skin. Jasmine is found to promote love, uplift mood and provide a positive outlook. The oil is extracted from the flowering Jasmine plant, but the flowers must be hand-picked at night before sunrise when their aroma is the most intense.It requires more than 1 pound of Jasmine flowers to create just 10 drops of Pure Jasmine Essential Oil. This is a very labor-intensive process, which is reflected in the cost of this highly coveted ingredient.
Apply MV Eye Cream morning and evening to the skin surrounding the eyes for best results. External Use Only.

Pro Tip:

Do not scoop. Instead, allow the cream to melt into your finger for a moment before gently applying around the eyes.







Shea Butter, Grapeseed Oil, Sweet Almond Oil, Tamanu Oil, Vitamin E, Rosehip Seed Oil, Prickly Pear Seed Oil, Full Spectrum CBD, Hemp Seed Oil, Reishi Mushroom, Active Tuberose Flower Plant Cell, Essential Oils