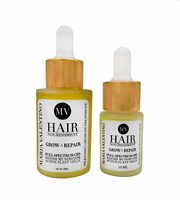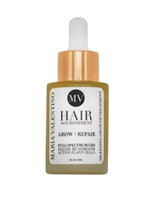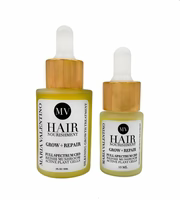 Hair Nourishment (Grow + Repair)
Made with only premium active botanical ingredients, this nourishing serum is perfectly formulated to repair and restore for exceptional hair health. Featuring Full Spectrum CBD, synergy boosting Terpenes, the powerful Reishi Mushroom Spore Oil ( packed with Polysaccharides and Triterpenes, as well as Adaptogens), and Active Plant Cells, this is the ultimate product to achieve healthy, naturally stunning hair. 
This serum is supported by some of the finest ingredients in the world for hair rejuvenation, packed with nutrient rich plant oils to encourages new growth, seal split-ends and improve the quality and appearance of hair. The Lilac active plant cells soothe and reduce irritation of the scalp and roots, strengthen the basic defense and growth mechanisms, reinforce the production of cell energy in the hair roots and is a protective antioxidant preventing damage. It creates multi-functional action in the heart of the hair follicle, rebalancing hair at the source, and restoring natural healthy shine. While these phytonutrients help to reverse previous UV Damage and sun overexposure, the Sweet Almond Oil and Carrot Seed Oil also offer SPF for further daily protection.
Place a few drops into palm of hand. Evenly apply to damp hair prior to styling and repeat as needed. A little goes a long way.

For intensive treatment, massage generously into roots and ends. Allow the serum to soak into hair and scalp for at least 30 minutes before washing, or leave it overnight.







Sweet Almond Oil, Argan Oil, Rosehip Seed Oil, Baobab Oil, Jojoba Oil, Full Spectrum CBD, Hemp Seed Oil, Reishi Mushroom, Castor Oil, Carrot Seed Oil, Vitamin E Oil, Active Lilac Plant Cell, Essential Oils